BPNI Maharashtra
BPNI Maharashtra's Lactation Consultants & Mother Support Group Leaders provide Pre & Post-Delivery Breastfeeding Help & Support to mothers to help them breastfeed successfully.
We train Health Care Providers in the art & science of IYCN (Infant & Young Child Nutrition) to optimally change Breastfeeding & Complementary Feeding Practices to improve Neonatal, Infant & Child Mortality & Morbidity.
We work in close collaboration with the state governments & UNICEF offices & abide by the IMS Act to achieve the above.
Importance of Exclusive Breastfeeding for Six Months
BPNI Programme Highlights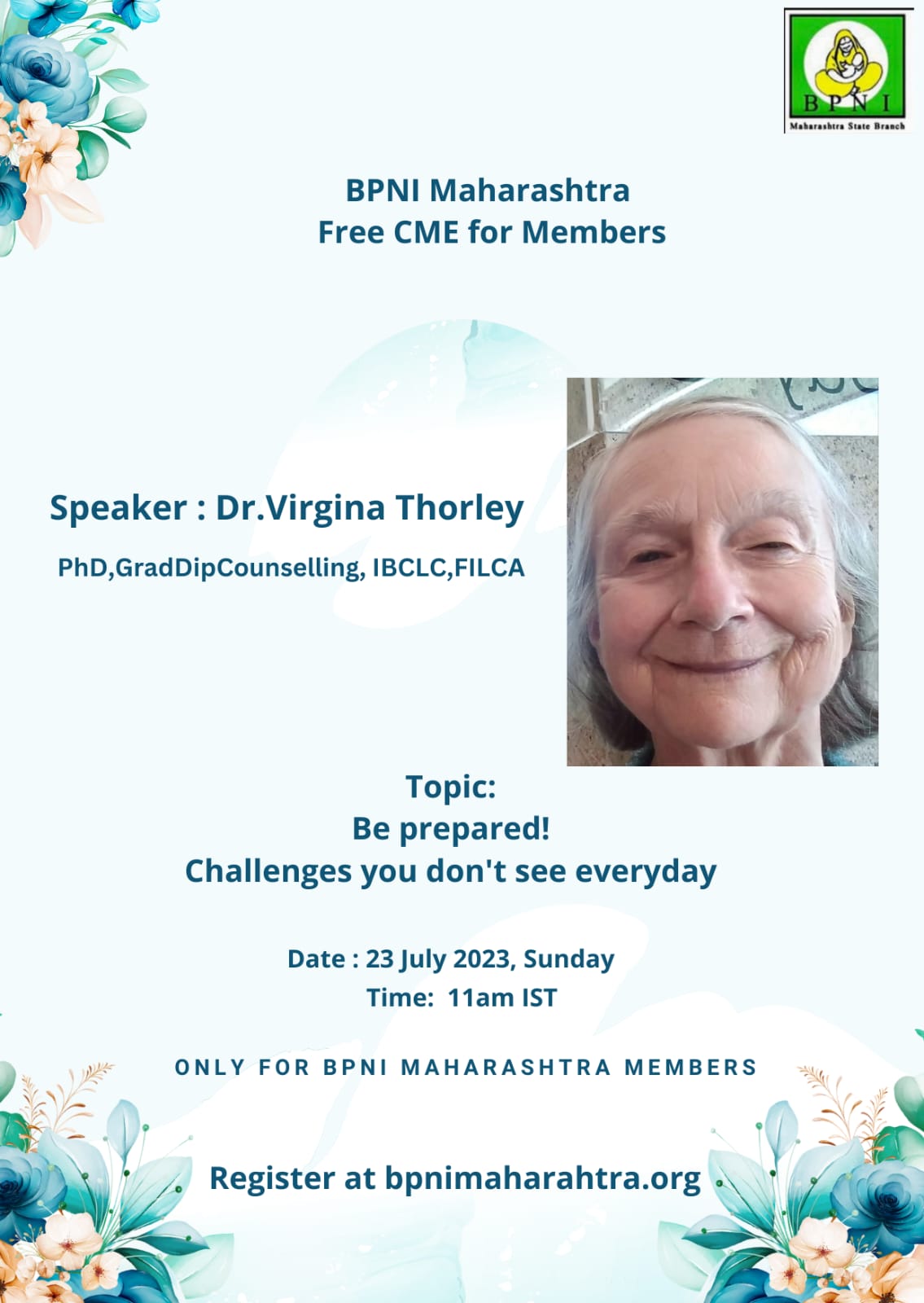 Date: 23rd July 2023
Time: 11 am-12 noon
Topic: Be prepared! Challenges you don't see every day.
Faculty: Dr. Virginia Thorley
Child Care Book
Simple, Short tips on Child Care at a Small Cost, in 4 languages (English, Marathi, Hindi & Guajarati). Must read for every parent. Good return gift at 'Baby Shower'
This team has really empowered my motherhood to the next level, helping me to manage Breastfeeding, Work, and life beautifully. Thank you so much, Doctor 😊… Kudos to the BPNI Maharashtra Team!!!
Mrs. Sonal Paralkar
Mother of two
The passion with which I have seen BPNI people working is unparallel and inspiring. Supported by the Government, they have a huge potential in addressing the cause of child malnutrition sustainable and permanently.
Dr. Nipun Vinayak
Joint Secretary, Ministry of Health & Family Welfare Government of India
BPNI Maharashtra offers an excellent platform for sharing experiences and mutual learning, with a clear focus on infant and maternal health. Thankyou BPNI Maharashtra- great work being done in this noble cause.
Dr. Sushma Malik
Professor & HOD of Pediatrics & Neonatology Division TN Medical College & BYL Nair Hospital, Mumbai
Full marks to BPNI Maharashtra, for its consistent efforts over the last 25 years, to improve 'Infant and Young Child Feeding Practices'.
Dr. R. K. Anand
Co-Chair, International Advisory Council, World Alliance for Breastfeeding Action (WABA)
A fruitful partnership with the highly enthusiastic resource team at BPNI Maharashtra for over 13 years has resulted in some very positive outcomes for mothers and children in Chhattisgarh and Odisha.
Mr. Sourav Bhattacharjee
Nutrition Specialist, UNICEF Odisha
Former Programme Officer (Nutrition), UNICEF Chhattisgarh
As an ICDS officer, the BPNI Maharashtra training in IYCN changed the course of my professional life. I got the knowledge, acquired the skills and gained the right attitude.
Ms. Sneha Deo
Research Officer, State Institute of Rural Development, YASHADA, Pune
Former ICDS Officer (1996-2014)
Donate
Donations help us to support our ongoing Breastfeeding Counselling to new mothers in Public Hospitals.
Online donations can be made using our secure payment gateway.
If you still wish to make an offline donation, do write to us at donations@bpnimaharashtra.org